1960 - 1970 / 1970 - 1974 / 1974 - 1982 / 1982 - 1988 / 1988 +


Click to EnlargeAndré Perry is President and founding partner of Fidelio Technologies Inc. www.fideliotechnologies.com The company has developed 2xHD, a proprietary system for the transformation of analog and digital music masters into high resolution DXD and DSD formats, and their derivatives, 88/24 and higher formats for downloading on HD audio sites around the world. Fidelio Technologies also acts as a download licensee for various labels.
Widely acknowledged as a pillar of the Canadian Music Industry, producer, musician, composer, recording engineer, André Perry is the creator and founder of, the first sophisticated, world-class environmental recording facility; Le Studio (Morin Heights). Over 250 million copies of recordings made at Le Studio have been sold world-wide.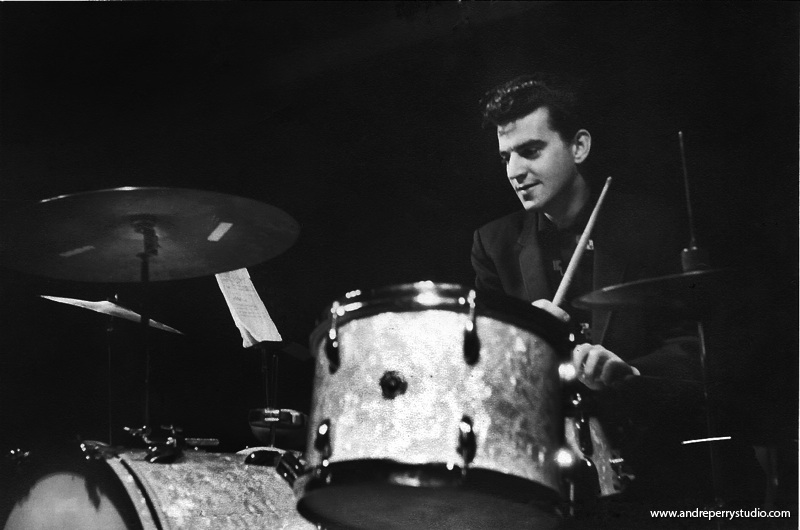 Click to EnlargeBorn in Montreal, Canada, in 1937, Perry started his career as jazz drummer and singer when he was 16. By the age of 20 Perry was in demand as a studio musician and headed his own jazz group, winning the Grand Prix du Disque Canadien for most promising new male recording artist of the year in 1962.


Click to Enlarge


Click to EnlargePerry opened his first recording facility in 1962 - Studio André Perry - located in the Montreal suburb of Ville Brossard.


Click to EnlargeSince the very early years, Perry's passion for excellence attracted most of Quebec's artists to his studio. "His significant contributions to the emerging careers of the leaders of the fledgling industry enhanced his reputation; "Jean-Pierre Ferland's career building signature albums "Jaune" and "Soleil" were produced and recorded by Perry and are still considered musical landmarks in French Canada. In February 2008, in a survey made by Montreal's premier newspaper La Presse, of the best albums released by Quebec artists over the past 50 years, Ferland's album Jaune and Robert Charlebois' album "Lindbergh"which was also produced & recorded by Perry during the same period, were voted number 1 and number 2 respectively. A similar poll made earlier by Montreal's cultural news weekly, Voir, produced the same results.


Click to Enlarge


Click to EnlargeBecause of his thirst for new vistas & constant search for the latest technology, Perry's studio was first in Canada to make use of the most up-to-date tools such as: a transistorized console, the first synthesizer (the Moog), first multi-track recorders, and so on. His innovations and reputation made him the obvious choice for special projects. Both the governments of Canada and of Québec selected Perry to produce the multi-media presentations for their respective Expo '67 host pavilion. The organizing committee of the Olympic Games (COJO) asked him to produce the music of the opening & closing ceremonies for the 1976 Montreal Olympic Games. The Grands Ballets Canadiens, called on his services to create a unique, multi-channel playback environment for their performance of the Who's rock opera 'Tommy' at Montreal's Place des Arts and choreographer Eddy Toussaint commissioned him to compose and produce original electronic music for his ballet company.


Click to Enlarge
In 1969 John Lennon and Yoko Ono came to Montreal and invited the world to their 'Bed-In' for Peace. On the last day, Perry was asked to record what has since become a most famous anthem: 'Give Peace a Chance'. In appreciation for his additions in post- production and flair in the final mix, Lennon generously included Perry's complete address on the record label – an unprecedented and never reproduced gesture. In the spring 2009, on the 40th anniversary of the event, the Montreal Museum of Fine Arts, with the cooperation of Yoko Ono, celebrated the happening with the creation of a very successful exhibition, which featured memorabilia from the 'Bed-In' and the recording, Yoko's memoires and artworks, and some of Perry's contributions. A record number of viewers visited the exhibition.



Click to Enlarge


Click to EnlargePerry acquired an Anglican church on Amherst Square in downtown Montreal and moved his facility there. In early 1970, prior to the digital era, he persuaded the multi-national Ampex Corp. to develop and manufacture a locking device to synchronize several multi-track recorders, expanding the range from 16 to 32 tracks.


Click to EnlargePerry sold the studio-in-the-church in 1972 to devote his time to producing records and running his new company, Good Noise Records, associating with New York's


Click to Enlargebubbling underground music scene, collaborating with Tony Levin, David Spinozza, John Lissauer, the Brecker Brothers. Good Noise Records released recordings by Alan Gerber, Anna McGarrigle, Ronney Abramson, Tim Ryan, Man Made, The Hotel Orchestra and Brian Blain.



Click to EnlargeAndré Perry conceived and designed LE STUDIO (Morin Heights) which he operated with his life and business partner Yaël Brandeis. Tucked in the Laurentian Mountains, 65 Km from Montreal, Le Studio was created based on a revolutionary concept, defeating acoustic rules, blending creativity with technology. Not only was it located outside the metropolitan area, it was daringly far from the mainstream global music centers. Le Studio was the


Click to Enlargefirst refined 'environmental recording studio' in which artists were embedded for the duration of the recording process, which sometimes lasted more than 4 months, in an atmosphere of creative protection and encouragement.


Click to EnlargeRecognizing the superiority of the Solid State Logic Mastersystem (SSL) console Le Studio and London's Abbey Road Studios were the first in the world to put it to use. Perry's subsequent input through constant dialogue with the manufacturer was always appreciated and


Click to Enlargefrequently integrated in future versions. The SSL console is still considered the world's finest. In keeping with Perry's tradition, Le Studio was the earliest to introduce the digital recorder, (the two channel JVC BP90) using it first on the Police Synchronicity album.


Click to EnlargePerry's philosophy of nurturing the artists and musicians, as well as his personnel, redefined the studio industry, bringing to an end the era of dark, closed–in studio settings and transforming the approach to recording studio design. Rather than (as was the norm) imposing its own sound characteristics, stamping its own identity on the recordings, the studio's flexibility and distinctive combination of European and North American equipment made it a versatile and sophisticated instrument, servicing the individual sound and core of each artist.


Click to EnlargeThe world-class music complex quickly attracted and became favorite of many international clients, including (alphabetically) April Wine, ASIA, Bryan Adams, the Bee Gees, David Bowie, Cat Stevens, Chicago, Julien Clerc, Roberta Flack, Corey Hart, Ian Hunter, Catherine Lara, Kim Mitchell, Nazareth, the Police, Keith Richards, Rush, Sting, Toronto. The quality of the


Click to Enlargefacility and of its clients earned it - together with George Martin's Air Montserrat - the position of best recording studio in the world, named in the industry's leading magazine, Pro Sound News' annual Recording & Sound Awards.


Click to EnlargeWith Yaël Brandeis looking after the day-to-day operations of the studio, Perry continued to produce and record a diverse list of established and new artists, as well as to encourage young local artists by donating studio time and advice. He was also member of the board of directors of Canadian Independent Record Production Association (CIRPA) and founding member of the Association Québécoise de l'Industrie du Disque, du Spectacle et de la Vidéo (L'ADISQ) and of the CIRPA/L'ADISQ alliance.



Click to EnlargeInspired by Ron Hayes' electronic visual of Richard Wagner's Tristan & Isolde, and anticipating the video evolution, André Perry diversified and expanded Le Studio, adding André Perry Video. The result was one of the most avant-garde video facilities of its time; with a computer graphics department and an electronic music studio complementing the editing suites and shooting stage. During the following years, the Video facility was involved in the production of television specials for the American and Canadian networks including The World Challenge series starring Peter Ustinov, specials starring violinist Itzhak Perlman, the Montreal Symphony Orchestra, Nancy Reagan, Barbara Walters, industrial videos for SNC Lavalin and for the Kennedy Center, electronic signatures & show openings for


Click to EnlargeRadio Canada's annual 'Bye 'Bye & 'Les Beaux Dimanches', NBC's NFL openings and the Bill Cosby show opening for CBS, as well as numerous music videos and television commercials.


Click to Enlarge
In 1986 Le Studio and André Perry Video made a public offering on the Montreal Stock Exchange, changing the name to
Group André Perry Inc
. The company grew, building a similar facility in Washington D.C. and acquiring two video and computer-graphic facilities; one in San Francisco the other in Silicon Valley. The following year the company raised $25,000,000.00 through a Swiss convertible bond issue to further its development.

André Perry C.M. is presently President and founding partner of Fidelio Technologies Inc. www.2xHD.com.


Click to Enlarge


Click to Enlarge
Contact Information
Email: ynaperry@hotmail.com